4 selected members from IFCA's US Alumni and Professional Teams will arrive in Tokyo on 3/17 for their 10-day trip.
They will be collaborating and presenting in 5 events in 5 separate cities (Fuji City, Kyoto, Kita Kyushu, Fukuoka and Tokyo. )  Please see below for their itinerary and profiles.
=========================================================
"Foster Care Forum in Fuji City – Shizuoka"  Sponsored and organized by Fuji-Nijinokai and IFCA
March 20th (Monday-Holiday in Japan) 9:30 AM – 3:30 PM
Venue: Fuji City Shobo Boen Chosha 7F Large Conference Room
Audience: foster youth/alumni, child welfare professionals, foster parents and their support professionals local/city/prefectural government officials
(Free Admission) 500 yen for handouts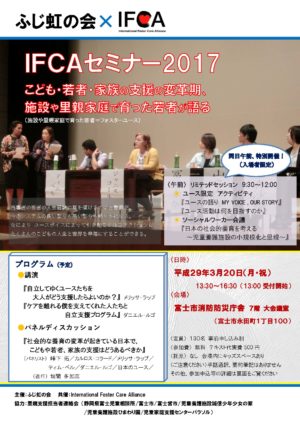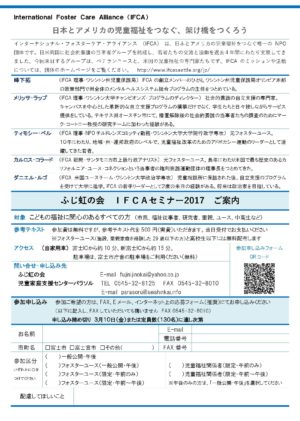 "Foster Care Symposium with Foster Care Research Association"
Hosted by Prof. Masako Nagase
March 22nd  (Wednesday) 10:00 AM – 2:00 PM
Venue: Bukkyo University  (Kyoto)
Audience: child welfare professionals and scholars
"Dinner and Conference" with NPO Bokenou  https://www.facebook.com/QAdventure/
March 22nd (Wednesday)   6:30 PM – 8:30 PM
Venue: Kitakyushu City Child Protection Services in Tobata
Audience: child welfare professionals, foster parents, facility staff, congressman/women from the city government, city administrators and students (about 20 people will attend)
"Youth Rights and Youth Advocacy – KKB 2016 Final Session with Friends from IFCA"
March 23rd (Thursday)  Dinner and Seminar   6:00 PM – 9:00 PM
Venue: Seinan Gakuin University Community Center, All Purpose Room 1-3
Admission: 1000 yen for handouts, 2000 yen for dinner
Audience: Child welfare professionals, foster parents and their support professionals, managers/staff from foster care facilities
Collaboration with Arts Initiative Tokyo (AIT)   http://www.a-i-t.net/en/
Venue:  Twin Bldg. Daikanyama B-403, 30-8 Sarugaku-cho, Shibuya-ku, Tokyo
=========================================================
Taku Mineshita, MSW
Born in Japan. Earned a BA in Psychology from Lewis-Clark State College and coauthoured a paper as an undergraduate, " Teenage Non-Violence Test: A New Measure of Non-Violence," which was presented at the 1998 American Psychological Association Convention in San Francisco. Worked for Seattle Children's Home, a psychiatric residential treatment facility offering comprehensive mental health services for youth who are among the most acute in the state of Washington from 2000 to 2009. Took on a variety of roles ending as Program Manager. Graduated from the University of Washington with a Master's of Social Work. From 2009 to 2014, served the Washington State Department of Social & Health Services [DSHS], Children's Administration at the Office of Indian Child Welfare working with the American Indian and Alaska Native population. Currently, working as a Mental Health Systems Integration Program Administrator for the DSHS Children's Administration Division of Program and Policy Development.
 Timothy Bell
Tim is a son of the State of Washington where he grew up in foster care for over six years before "aging out" at eighteen years old. Now, Tim is a Masters Degree Candidate in Public Affairs at the University of Washington's Evans School. Additionally, Tim is an ally and adult supporter for the youth board in the state of Washington called Passion to Action, is a member of the Washington State chapter of Foster Care Alumni of America, and sits on a second board of directors at FosterClub. Formerly, Tim helped direct IFCA's Youth and Alumni Programs before taking on a role with the Board. Throughout his life, Tim has had multiple periods of homelessness, struggled with mental health, and has witnessed his brothers and sisters from care experience poorer outcomes than their non-foster care peers. It is because of these struggles that he stands ready to help address the problems facing foster youth and foster families through his work on the International Foster Care Alliance Board of Directors.
Melissa Raap
Melissa Raap is the Counseling Services Coordinator for the University of Washington Champions Program. As the sole coordinator of the program, Melissa meets regularly with students, providing support through innovative programming and events. Prior to her work with the Champions Program, Melissa worked with Dr. Mark Courtney on the Midwest Evaluation of the Adult Functioning of Former Foster Youth Outcomes at Age 23 and 24 and in Austin, Texas with young adults who "aged out" of care. Melissa is currently an Adult Supporter of Passion to Action, a statewide youth-led advisory board to Washington State's Children's Administration and an ally member of the newly formed Foster Care Alumni of America, Washington Chapter. She is very happy to join the IFCA team as an Advisory Board member.
Daniel Lugo
Daniel Lugo has spent a little over three years in the Washington State foster care system. He was also born and raised in Washington State. After graduating from high school, he left for the University of Washington in Seattle. Initially, Daniel had little insight as to what sort of degree he wanted to get but half way through his sophomore year, Daniel decided to major in Political Science.
Daniel's experience in the University of Washington has been quite the journey. After the first quarter of his freshman year, Daniel was sure that he wanted to be an astronomer. The universe seemed so open to exploration and discovery, which intrigued Daniel very much. However, after taking science and math classes, Daniel found that he wasn't happy. Something felt missing. What he discovered is that he has a passion for helping others and everything else in the world around him. Nothing makes Daniel happier than to see a smiling face and knowing that he's made a positive impact on the world. With that passion realized, Daniel decided to major in Political Science to hopefully get involved in politics some day.      Currently, Daniel is still attending classes at the University of Washington while also working part time. In his free time, Daniel also enjoys playing video games, watching movies and spending time with his loved ones. The small things in life are what matter the most to him and for that reason, he likes a slower paced lifestyle.