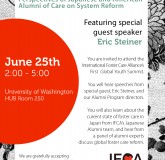 "Toward a Global Conversation-Perspectives of Japanese and American Alumni of Care on System Reform"
Date:              6/25/2014 [Wednesday]
Time:              2:00 pm – 5:00 pm
Location:       University of Washington-HUB 250
This 3-hour presentation will be led by IFCA's 10 foster care alumni members-5 from Tokyo and 5 from Seattle, and featured speakers, Eric Steiner,  an expert in foster youth employment and an advisor with Casey Family Programs, and our Youth Programs Co-directors, Timothy Bell and Janice Cole.
The first part of the conference showcases the current status of foster care in Japan.  The second half of the conference focuses on foster care system reform in both Japan and the United States.
This symposium provides a rare and unique opportunity to learn about the current struggles of foster youth and alumni of foster care in a cross-cultural context and the importance of youth perspectives and youth-adult partnership.
Japanese to English translation and handouts are provided.
There is a suggested donation of $20 at the door for this summit.
For more information, please call us at (206) 612-3732 or email us at  info@ifcaseattle.org