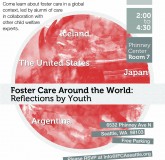 "Foster Care Around the World – Reflections by Youth"
Date:             7/12/2015 [Sunday]
Time:             2:00 pm – 4:30 pm
Location:     Phinney Center [6532 Phinney Ave. N, Seattle, WA 98103 ]-Room 7
This 2 ½ hour presentation will be led by IFCA's 12 foster care alumni members-4 from Tokyo and 8 from Seattle, and will feature a guest speaker, Hiroe Izumi, Ph.D., an expert in foster care in Japan.
The first part of the conference showcases the current status of foster care in Japan.  There will also be speakers from the US Team talking about the child welfare systems in Iceland and Argentina.  Recently, one of our members traveled to Iceland and met with key people governing the foster care systems there.  The IFCA US Team has also been conducting regular tele-conferences with an Argentinian foster youth organization called Doncel.
The second half of the conference will be a panel discussion of youth members.  This symposium provides a rare and unique opportunity to learn about the current struggles of foster youth and alumni of foster care in a cross-cultural context and the importance of youth perspectives and youth-adult partnership.
Japanese to English translation and handouts are provided.
We are gratefully accepting donations in order to support IFCA's future alumni projects.
For more information, please call us at 1-888-447-IFCA (4322) or email us at info@ifcaseattle.org