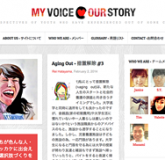 Have you visited our beautiful bilingual blog site called "My Voice, Our Story"?      
This blog is a collaboration of IFCA's Alumni Teams in Seattle and Tokyo, and the first blog theme is "Aging Out".  The teams have been working very hard to build this truly unique English/Japanese blog.
Here is one of the alumni editors' description of the blog site.
This blog represents the thoughts and experiences of youth who have grown up outside of the traditional home setting. Written by youth in both the United States and Japan, our hope is that together we can share with the world what foster care, and overcoming it, is all about.  We welcome our readers, both professionals and the general public, to read our stories and hear our voice.  [ From "About Us"  My Voice, Our Story]